Diesel Racer Johnny Gilbert Talks Racing and FUELAB Fuel Pumps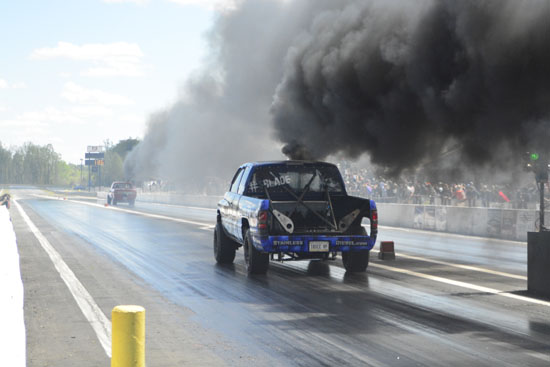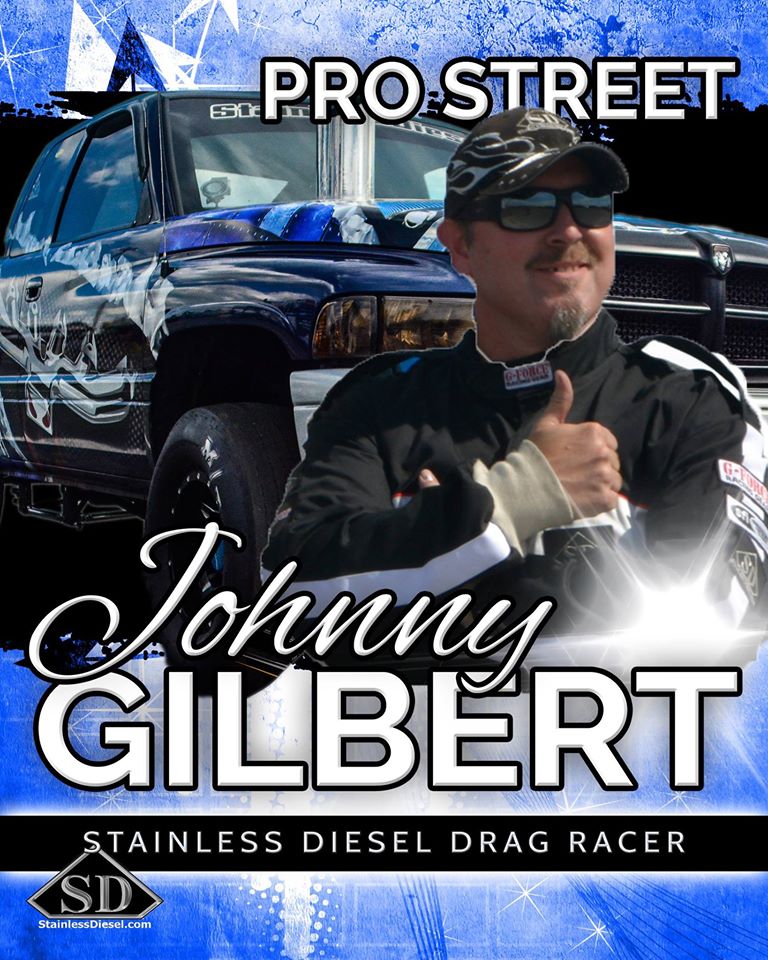 FUELAB sponsored diesel drag racer Johnny Gilbert spent time with us discussing his drag racing career, and experience with FUELAB.

Q: When did you start racing?
A: In about 1985, I was fifteen years old. I've been hooked ever since.

Q: What got you into racing?
A: My old man (dad) got me into it. He raced 1955 and 1957 Chevy's in Kentucky at Clay City Dragway. That's where I did my first run.

Q: What was the first car you raced?
A: It was a 1970 Chevelle with a 400 small block bored .30 over to a 406. It ran 12.70 to 12.80 in the ¼ mile.

Q: What were some of the other cars you have raced and when?
A: I was hooked on Chevy's. When I turned 18 I got a 1971 Chevelle SS 402 with a TH400 transmission. I started racing it at Osceola, Indiana. The car has seen ten different variations of engines and transmissions installed over the years. My best run was a 10.13 when I was bracket racing in the IHRA. I still have the car, and it runs a 10.29. About 12 years ago I was racing the Chevelle at an event and the rear end broke, so I made some runs in the 2001 Ram 2500 4x4 diesel pickup I was using to tow the Chevelle. My friends were all laughing, but I did alright. About seven or eight years ago I started getting serious about racing the truck, and at that time I got it into the high 11's.

Q: What have been your major racing successes over the past 5 years?
A: In 2014 I was points champion in the NADM Unlimited Diesel Class, and won the Unlimited Diesel class. Last year in the ODRS I missed half the season with a broken crank, but still ended up 6th in points overall. We won the Scheid Diesel Extravaganza five years in a row, and in 2013 I won in two classes over the weekend; in the Heads Up Pro Truck class I ran a 6.70 in the 1/8th mile, and a 7.70 in Quick Diesel. This year we are running Pro Street class with a lightened up chassis in the ODRS. The truck is now running a triple turbo set up. So far my personal best is a 5.7 second 1/8th mile at 128 MPH. There are a few guys that are a little quicker.

Q: What do you like most about racing?
A: What really sticks out is the comradery – seeing old friends at events. I also like the competition. I've always been competitive.

Q: Is your family involved in your racing efforts?
A: Yes, my wife does photography and keeps tabs on other racers. Sometimes she helps work on the truck.

Q: How long have you used FUELAB?
A: I first started running FUELAB on my tow vehicle about two to three years ago and was very happy with it. Last year I saw racers running FUELAB that were doing very well, and that got my attention. Then I met Josh Davis, from FUELAB, at a race. He was very knowledgeable and I learned a lot about the company's technology. I was so impressed I installed FUELAB on my race truck.

Q: Why did you start using FUELAB?
A: Everything is excellent quality, with great attention to detail, and it lasts a long time. Plus it is made in the USA, and that is a big deal to me.

Q: Was there a particular problem you were having that FUELAB solved?
A: The FASS fuel system we had before was fine, but couldn't handle the 2200-2500 horsepower level we are shooting for. We wanted to get the best fuel delivery system possible so we went with FUELAB. Their top-notch high quality can't be beat.

Q: How has FUELAB affected your racing success?
A: The performance consistency is great. Our data logger shows the same fuel pressure all the way through a run. It loses zero pounds of pressure – it's cool to watch! We'll be slowly turning up the power during the season, and we are sure the FUELAB pumps will be able to handle it.

Q: What FUELAB parts do you use?
A: We run two Velocity Series 200 GPH Lift Pumps, each can handle 1,500 HP. We also have two FUELAB 42402 regulators, and FUELAB fuel pre-filters.

Q: What do you see as the primary benefits of FUELAB products and company?
A: I think FUELAB is awesome. The tech reps will take the time to get your questions answered right away. Even after hours. They're really professional, really sharp, and willing to go the extra mile.

Q: Where do you see diesel racing in 5 years?
A: I'd like to see the diesel class move into the four second range, and there to be an increased truck count.

Q: What do you do in your spare time?
A: I live, eat and sleep racing. Otherwise I like to do things with the family - like take the kids to the beach.